AAA Bone-In Rib Steak for Two with Horseradish-Caper Butter
Garlic Roasted Carrots, Parsnips & Baby Potatoes
AAA Bone-In Rib Steak for Two with Horseradish-Caper Butter
Garlic Roasted Carrots, Parsnips & Baby Potatoes
Connoisseurs of fine cuts of beef will know that this bone-in steak, also known as ribeye, is incredibly flavourful and melt-in-your-mouth tender. It doesn't need much to transform into a tantalizing supper—just a dash of our special steak spice, before searing the meat to exactly the way you love it. A medley of garlicky roasted root vegetables adds colour and comfort. And the beurre composé of grated horseradish and capers that crowns the steak is a luscious final touch.
22oz AAA Bone-in beef rib steak

3 Garlic cloves

10g Fresh horseradish

450g Baby potatoes

1 Bunch of rosemary

300g Parsnips

300g Peeled baby carrots

10g Capers

9g Superior Steak Spice (dehydrated vegetables, salt, spices, mustard, sugar, sunflower oil, lemon oil, black pepper)
Large pan
Peeler
Sheet pan
Grater
Oil
3 or 6 tbsp Butter
Salt & pepper
Parchment paper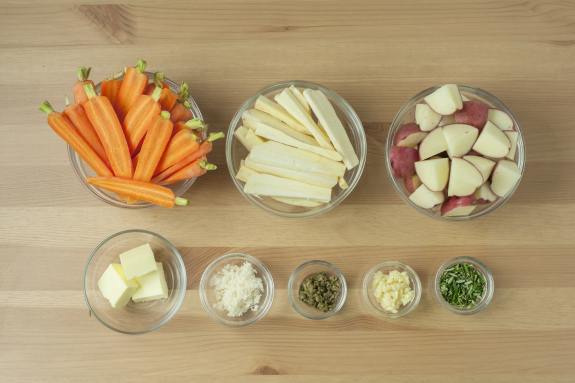 Mise en place
Preheat the oven to 450°F. Cut the potatoes into bite-size pieces. Peel and quarter the parsnips lengthwise (if large, cut again lengthwise); cut crosswise into 2-inch pieces. Halve the carrots lengthwise. Grate the horseradish. Mince the garlic. Roughly chop the capers. Pick the rosemary leaves off the stems, discarding the stems; roughly chop the leaves. Place 3 tbsp butter (double for 4 portions) in a bowl and leave at room temperature to soften.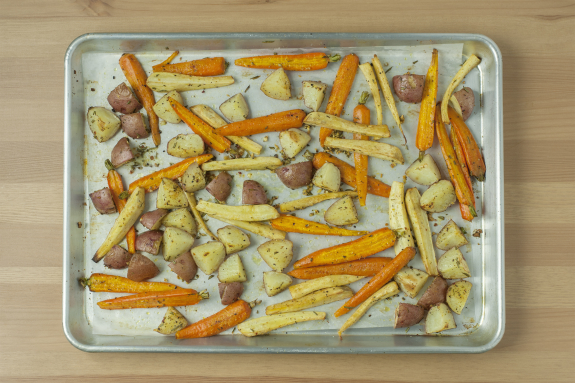 Roast the vegetables
On a lined sheet pan, toss the potatoes, parsnips, carrots, garlic and rosemary with a drizzle of oil; season with ½ the spice blend and S&P. Arrange in a single, even layer and roast in the oven, 20 to 25 minutes, stirring halfway through, until browned and tender when pierced with a fork. Remove from the oven. Using your hands, break apart ⅓ of the softened butter and scatter over the roasted vegetables. Switch the oven to broil and cook, watching closely, 2 to 3 minutes, until golden brown.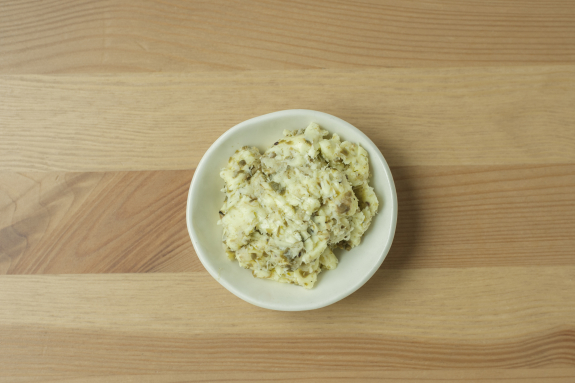 Make the horseradish-caper butter
While the vegetables roast, in a bowl, combine the remaining softened butter, capers and as much horseradish as you'd like; season with S&P to taste.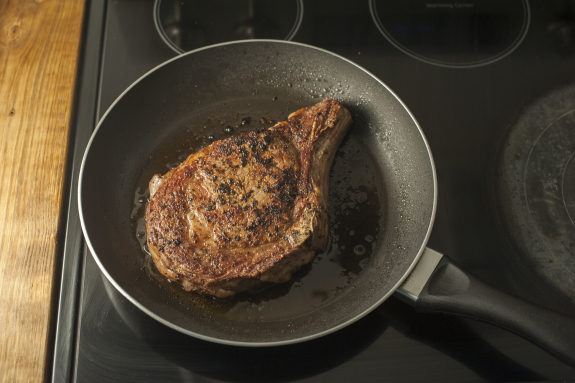 Cook the steak
While the vegetables continue to roast, in a large pan, heat a drizzle of oil on medium-high. Pat the steak dry with paper towel; season with the remaining spice blend and S&P. Add the seasoned steak* to the pan and cook, 3 to 5 minutes per side, or until cooked as desired. Transfer to a cutting board. Let rest for at least 5 minutes before cutting the steak off the bone and thinly slicing against the grain.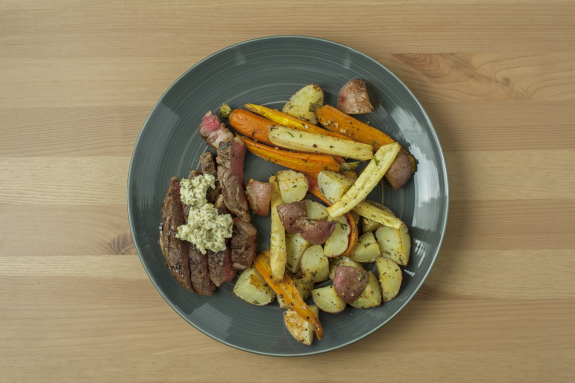 Plate your dish
Divide the roasted vegetables and sliced steak between your plates. Top the steak with the horseradish-caper butter. Bon appétit!
*Health Canada recommends cooking beef to a minimum internal temperature of 63°C.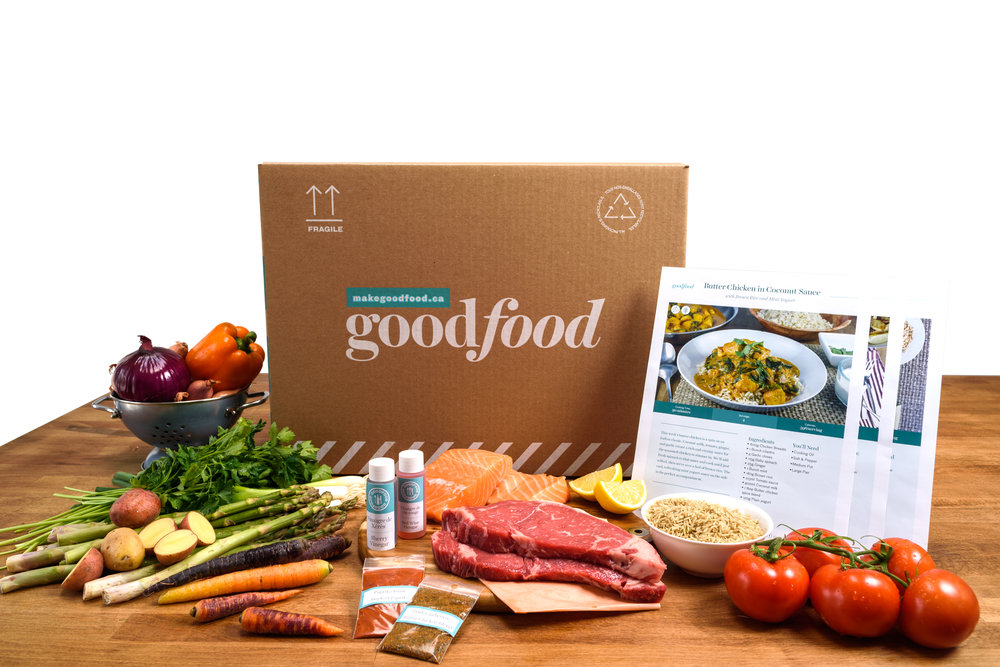 Let's get cooking
Discover a new way to cook with Goodfood: original recipes and the freshest ingredients delivered to your door every week.
Get started for just $4.99